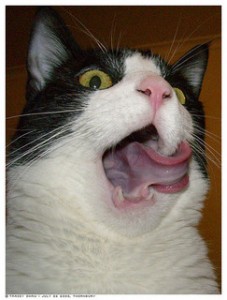 Earlier this week, we told you how to come up with good youth group names. The thing is, we wouldn't be doing our duty unless we covered the flipside – making sure you don't choose a lame youth group name.
We've all been there – you see a flyer, a poster or an invitation to a Facebook event that's promoting a youth group. And you cringe.
Seriously? They picked that as the name for their youth group? What were they thinking?
The next time that happens, do the youth worker a favor and tell them about this post and our 5 tips to avoid a lame youth group name (spoiler alert: they may not want to be your friend anymore):
1) Long names – If you want young people in the community to come to your youth club, nothing says boooooooring more than calling it "St John The Baptist United Southern Methodist Of The Virgin Mary Reformed Youth Club".
Unless you're naming it this way ironically.
Except youth don't tend to do irony. Even Alanis Morissette didn't understand what irony is.
So best choice – avoid long names.
2) Badly named acronyms – If you decide to ignore the first point, take care with the acronym of your longer youth group name.
Calling your youth work project "Convicts Redirecting Adolescents Project" could prove tricky if people start to shorten it to an acronym.
3) Anything starting with Re – I'm probably going to offend 90% of youth workers (including Shae when I read this to her!), but here goes. Please don't call it anything starting with Re.
There are so many groups called Re:vive, Re:new, Re:act, Re:generate, R:e:s:p:e:c:t etc, that it's just not original anymore. In my opinion these names sound really 90s now, so I'm re:ally tired of re:ading flyers for youth groups named like this, that try to re:ach out to young people without re:alising that it looks lame and isn't re:levant.
4) Avoid pop culture – It's tempting to think that good youth group names are cutting edge and should be named after something in popular culture. The problem with this is that your youth group name can become dated pretty quickly.
Imagine if a few years ago, a church named their youth group MyGrace because of the hip and happening MySpace. What might once have seemed cutting edge now looks more dated than an Instagram photo.
5) Old person words – And by old person words, I'm talking words anyone over the age of 21 wouldn't use. I've used some of these already in the post – adolescent, hip and happening, etc. If these words didn't stand out, it probably means that you're an old person like me (I'm 31). Yet another reason to have youth pick your youth group name.
Question: What are your tips for avoiding lame youth group names? Let us know in the comments below.
You can also connect with us by:
Image via TraceyShaw, Flickr