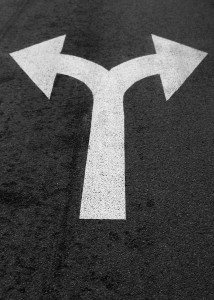 This week's youth retreat theme is all about Following Directions. We know that we get both faith based and non-faith based youth workers visiting our site, so we try to tailor our youth retreat themes so that they're useful no matter what type of organization you work for.
In this Following Directions theme, the first part of each activity or discussion point can therefore be used by both faith based and non-faith based youth workers. There's also a second section beneath most of the activities which have additional ideas for faith based retreats. I've written them as a Christian, but I'm sure many of the principles can also be used for those working with young people who are Muslim, Hindu, etc.
Following Directions – Game 1
Organize a treasure hunt/scavenger hunt that splits the youth into groups and sends the groups in different directions, but which ends up at the same finishing point.
Discussion: Explain that we're all unique which means the directions we receive might be different to those received by someone else. For example, if your grades aren't as good as your brother or sister, your parents might want you to spend more time on your homework. On the other hand, a sports coach may think you have more potential than other students, so may push you harder than he does with them.
Either way, it can be frustrating to receive different directions to other people, but that doesn't mean the person giving the instructions doesn't care about you – it could in fact be because they care so much that they're giving you different directions to fulfill your potential.
Christian youth retreat: God has different plans for each of us that will take us on different paths. He's also given us all different abilities and talents. This is great as it means that he treats us as unique individuals. And despite the different paths, we all have the same treasure waiting for us – eternal life with Him, no matter what path we take in our journey.
Following Directions – Game 2
Organize another treasure hunt, although this time only give half the youth correct directions. For the other half, you could miss off the final clue or give them a different final clue that sends them off somewhere else.
Discussion: Point out that it can be easy to trust that directions people give us are accurate, but sometimes they'll take us down the wrong path and into trouble. This can therefore be a good opportunity to talk about issues relating to peer pressure – sex & relationships, stealing, integrity, etc.
Christian youth retreat: Encourage your youth to question things they're taught as Biblical truth, including things you teach them. There can often be things that are taught as "Christian", but which are more like cultural viewpoints than things the Bible says. Encourage them to be like the Bereans and search the Bible for themselves, instead of blindly believing things that they're told.
Following Directions – Game 3
Have two youth come up to the front. One is given a picture and the other a flipchart that he has to draw on – make sure everyone in the room can see what he'll be drawing.
The young person with the picture has to describe to the other young person how to draw the picture line by line, but without telling him what the picture is. For example, "Draw a horizontal line 6 inches long. At the end of the line on the right, draw a straight line upwards for 9 inches. At the end of that line, draw a diagonal line up and to the left for 4 inches, etc".
Once they're done, bring out an enlarged picture for everyone to see what it should have looked like.
Discussion: How different was the original picture from what was drawn? Following directions blindly can result in the wrong outcome if we're not careful or listening to the wrong people.
Christian youth retreat: Similar to the point about the Bereans above, this is why it's important to read the Bible for ourselves, rather than solely relying on what others tell us.
As a follow-up activity, give them a list of phrases where they have to determine if the phrase is from the Bible or not. Pick some phrases from the Bible and mix them in with the following phrases that sound like they're from the Bible, but aren't:
God helps those who help themselves
Cleanliness is next to godliness
The Lord works in mysterious ways
Money is the root of all evil
Charity begins at home
Following Directions – Activity
Go on a long hike with the young people. Do some planning in advance and find a route that requires some map-reading/orientation skills, or at least requires them to follow directions in order to find their way – make sure the youth are in charge of leading the way.
You could also turn the hike into a nature scavenger hunt.
(n.b. If you're planning on doing both of the treasure hunt ideas, this might be too similar of an idea – the youth may get bored doing three similar activities over the course of the youth retreat)
Following Directions – Talk Ideas
If you're going to be having meetings at the youth retreat, here are some further ideas for talks or discussion starters for small groups that can be expanded on:
One Degree Of Deviation
It can be easy to go slightly off the path and not follow directions. This can have natural and logical consequences though and can mean we end up much further away further down the path without realizing it.
Explain the concept of one degree of deviation. If you're flying an airplane, being just one degree off means that for every mile you travel, you miss your target destination by 92 feet. It may not seem like a large gap, but the longer you travel in the wrong direction, the further you'll be from where you should be.
Using the pilot analogy, if you set off flying along the equator and are one degree off, you'd finish almost 500 miles off target by the time you'd flown around the world.
The same goes for tunnels built from opposite ends. Show the video clip below – imagine how embarrassing this would have been if they'd been one degree out in their calculations!
Christian youth retreat: Explain that this is why it's important to say sorry to God and get back on the right path.
GPS
It can be annoying having to follow directions from people all the time – parents, teachers, youth workers! Most of the time though, the directions we give young people are for their benefit.
When going on a road trip, you either ask for directions, look at a map or use a GPS. These all give directions so that you can find the right way to go – you follow these because you know they'll take you where you want to go.
Christian youth retreat: It's easy to think of God's directions as just a bunch of rules and that He's this super-controlling God. The directions are for our good though because He loves us and wants us to avoid the hurt and pain that can happen when we ignore them. Because He loves us so much though, He's still given us the ability to choose whether or not we want to follow them.
Sports
Have the youth imagine sports without any directions or rules:
Soccer – where you can pick up the ball
Basketball – where you can push each other over
Football – where the defense can tackle before the ball is snapped
Volleyball – where you can catch the ball before hitting it back
They wouldn't enjoy it – in fact, people would complain that it was unfair or not fun. We actually need rules and directions; not to prevent fun but because of the opposite – they often mean that we can have fun and enjoy ourselves.
Question: What activities do you use to address the issue of following directions with young people? Share your ideas in the comments below.
You can also connect with us by: