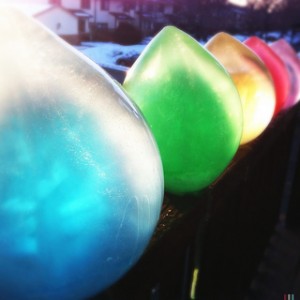 This week's addition to our youth group games is a name game icebreaker using balloons.
It's a great activity to use in a variety of scenarios:
For youth groups in the forming stage
When you have a new batch of young people join an existing group
You start leading an existing group and need to learn their names
It's easy to play and plan – here's how to do it:
Resources
Up to 3 balloons of different colors

Sticky labels / name tags (optional)
Pens (optional)
Preparation
Blow up the balloons – that's it!
Teams
This isn't a team game – it'll be done as one large group.
Balloon Name Game Rules
For this icebreaker, have the group stand or sit in a large circle. To start off, go round the circle and have each person say their name.
Next, introduce a balloon into the center of the circle. Hit it in the air and call out the name of a young person. You go back to your original place in the circle while the student whose name you said has to run into the center of the circle. They need to hit the balloon up in the air before it hits the ground, calling out the name of another of the teenagers and standing back in the circle themself.
The student who's just had their name called does the same thing – runs into the circle before the balloon hits the floor, knocks it into the air and calls out another name.
Length of Game
The amount of time that you play this for will depend on how large your group is and how quickly your teenagers get bored of it.
For a small group, you may only need to play for up to 5 minutes, while larger groups might keep this going for 15 minutes or so to make sure everyone gets a turn and to provide more of a chance to learn each other's names.
Levels of Difficulty
If you want to make this icebreaker a bit harder, here are a couple of suggestions:
1. Don't let them use their hands to hit the balloon in the air.
2. As they start to learn names more, introduce up to three balloons of different colors. They then have to call out a name and the color of the balloon they're hitting at the same time. Having different color balloons will help ensure you don't have three young people going for the same balloon at the same time.
Safety
This game's similar to the ball name game. With that one though, you can introduce as many balls as you like, whereas for this icebreaker we recommend using a maximum of three balloons.
The reason for this is that if you use more than three, there's an increased likelihood that the teenagers will run into each other or accidentally kick another player when trying to keep a balloon off the ground using their feet.
Tip
If you have a really large youth group, consider having them all wear a name tag at the start of the game to make it a little easier to remember each other's names initially.
If you found this idea helpful, we also have a few more name game icebreakers and loads more youth work games.
Question: What would you change to make this balloon name game even more fun? Let us know in the comments below.
You can also connect with us by: