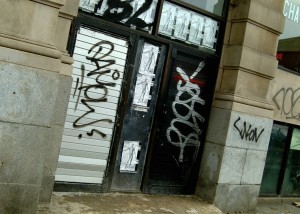 Shae was with a group of her young people last week and two of the girls were siblings. The younger sister was being noisy and disruptive and the older one said "That's my sister – she's really bad."
Shae took the time to correct her by explaining that her sister wasn't bad, but instead was displaying some bad behavior.
Is there a difference?
Bad youth behavior vs. a bad youth. Is there a difference?
Absolutely.
The former is something that someone does whereas the latter is something someone is. Just because a young person displays bad behavior, that doesn't make them a bad person. A youth making poor choices is simply doing that – making poor choices.
Your own behavior
You may be wondering "Isn't this just semantics?" No, there's a much bigger issue here. The way you perceive youth behavior vs. the actual youth themselves will affect your own behavior in terms of how you treat them.
For example, imagine you're a youth pastor leading a small group discussion. One of them is a 'good' young person – one who shows up to all your activities, doesn't misbehave, is part of the church worship group and gets straight A's at school.
You also have a 'bad' young person – one who only attends your youth ministry program occasionally and when he does show up, tends to be disruptive. You've heard that he's been suspended from school recently and dread the occasions when he does show up to your youth group.
Now, let's say that they both ask the following question: "Why does God allow suffering?" With the 'good' youth, you might rejoice in the question as evidence that they're growing spiritually and happily launch into a long discussion about it.
With the 'bad' youth though, you'd probably be more inclined to think that they're just trying to be disruptive yet again and as a result you might not take the time to address their question.
Same question, different resultant behavior by you.
The reality
The thing is, the reality could be something far different. The 'good' young person may be displaying the persona that's expected of them and just faking that they care about this issue or about other people.
The 'bad' young person on the other hand may have just found out that his best friend is being abused at home and is genuinely wondering why God would allow this to happen.
Same question, different reasons for the questions from the youth than you're aware of.
Labelling
It's therefore important to not label young people. There's absolutely nothing wrong with addressing poor youth behavior – in fact, we actively encourage you to deal with youth behavior issues.
The difference here is addressing the behavior as the issue, rather than the young person as the issue.
Question: What tips do you have for addressing bad youth behavior vs labelling youth as bad? Let us know in the comments below.
You can also connect with us by: