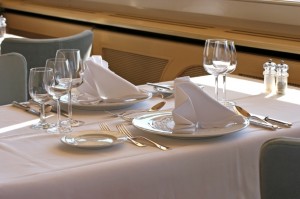 Teaching table etiquette is something that may not occur to many youth workers. You may be thinking, "Shouldn't this be something their parents teach them"?
And you'd be right. However, youth work comes in all shapes and sizes. There may be many opportunities in different youth work settings to teach this valuable skill – I've had several.
You may work with foster care youth who don't have parents readily available to learn from, youth who don't have a lot of opportunity to eat at restaurants that require the kind of table etiquette we're recommending or may not have parents who know these skills themselves and therefore haven't taught their children.
No matter what, by offering a youth work session on table etiquette before expecting youth to participate in activities that may require these skills, you can level the playing field and make sure that everyone knows the basics.
Start by teaching youth the basic skills they need to know when sitting down to eat with others at the table:
Elbows off the table – show youth how to sit with their hands in their lap while waiting for the meal to be served
Napkin bibs not required – most of the time, tucking a napkin into their shirt isn't appropriate. Show them how to place their napkin in their lap when they sit down
Be hospitable – encourage youth that it's best to serve others, particularly guests, at the table before serving themselves
The magic words – teach that 'please' and 'thank you' is always a good way to ask for something, not just at the table
Toilet talk isn't table talk – teach youth appropriate conversations to be had while at the table and during this session practice possible conversation topics with youth
Helpful reminders – avoid burping (or passing gas) at the table. Make sure youth practice taking small bites, waiting to swallow before talking and using their cutlery at all times
Fantastic finish – encourage youth to wait until everyone has finished their meal and remind them to ask permission to leave the table. Remind them of rule #3 and make sure they know to offer to remove plates from in front of guests
These are the basic steps for teaching table manners to youth. To make this whole process more fun, go over the basics and then put on a mock dinner party during the session. Practice the skills they're learning by offering praise and correction when appropriate.
Afterwards youth will be ready for presentation evenings, dinner fundraisers, outings and other celebrations involving fine dining. You may want to pair this session with a youth work session about cooking and then enjoy the meal together while youth practice their table etiquette skills.
Question: Do you think table etiquette is important to teach youth in a youth work setting? Why or why not? Please share your thoughts in the comments below.
You can also connect with us by: