One of the worst parts of the job for many youth workers is administration. Keeping track of paperwork, having everything you need for each youth work session and just generally staying on top of anything that doesn't involve time spent with youth – all areas that can cause stress for youth workers.
So today, we've got a list of three free online tools and how you can use them to simplify your youth work program administration and your youth worker life overall:
1) Dropbox

Think of Dropbox as a hard drive available to you no matter where you are. No more emailing documents to yourself, no more carrying around (and losing) USB flash drives. Your important youth work documents are all backed up in the cloud, there for you to download even if you're at home and you'd saved the document at work.
You still retain the original documents on your hard drive, but they're backed up on Dropbox's servers so even if your computer crashed, you haven't lost all your important work. I'd almost made this mistake with the youth work book we're working on – my laptop crashed a few months back and I thought we'd lost it all. I've now backed it up on Dropbox so even if that happened again, all isn't lost.
You can log in to your Dropbox account from any computer, or via an app downloaded to your phone, so you really do have access to your saved documents anywhere with an internet connection.
Dropbox comes with 2GB of storage free, with more space available if you're willing to pay for it. If you use this link to sign up, you get a bonus 250MB of storage (as do I).
2) Evernote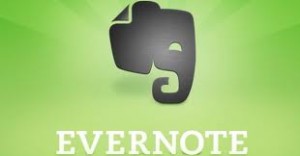 Evernote describe their service as allowing "users to capture, organize, and find information across multiple platforms. Users can take notes, clip webpages, snap photos using their mobile phones, create to-dos, and record audio."
This is somewhat similar to Dropbox in that you can make a list on Evernote and then have access to it anywhere – at work, home, on your phone, etc.
This is perfect for youth workers in so many ways:
See an article online relating to youth work that you want to come back to? Clip it using the Evernote browser plugin.
Have a great idea for a youth work session that you don't want to forget? Make a note.
Planning an event? Make a list of everything you need to do, so that you can keep track of the list via their app on your phone.
I use Evernote a lot for grocery shopping lists, as I used to make lists on paper but forget to take them when I would go to Wal-Mart. I always remember my phone though, so I just make my lists on Evernote now and check the list via their app. One of the best parts of Evernote lists are that you can easily add check boxes (UK – tick boxes), so as you complete each task/put Diet Coke in the shopping cart/call the first of twenty youth, you just press the check box and it marks that line as complete.
I also use it to make notes to myself when I have a sudden flash of inspiration, as it gets annoying when you have a great idea, only to remember a few hours later that you'd had a great idea but can't remember what it was!
3) ifttt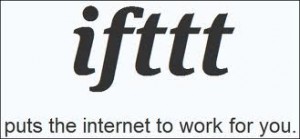 ifttt has been around for about a year, although it's now starting to really take off. ifttt stands for If This, Then That and is an ingenious solution for linking up all kinds of online services.
You set up "tasks" to be performed automatically whenever there's a trigger. So when this trigger is actioned (the "If This" part), ifttt will take care of the resulting action (the "Then That" part). This may sound confusing at first, but there are many ways this can help youth workers:
Craigslist – You're keeping tabs on Craigslist for a cheap sofa for your youth room, but are getting tired of searching everyday. You can arrange for ifttt to email you when a sofa matching your price range is listed. To do this, you do a search on Craigslist inputting your search parameters (e.g. search for "sofa", in "furniture", maximum price "$50" and copy and paste the URL into ifttt. Select the email address you want to be notified to and voila – no more manually searching every day.
Weather – Need to make sure you're at the office/church on time in the morning because of a meeting? Set an alert to be notified if there's rain or snow forecast the day before, so you can set your alarm to go off earlier.
Meetings – Do you tend to forget about meetings until 1/2 hour after they start? Save the meeting times on Google Calendar, then use ifttt to send you a text or email 15 minutes before it's due to start.
There are plenty of other uses for ifttt – check out their Recipes list where people have shared their own tasks to give others inspiration as to what can be done. My favorite is "Call my phone when I send ifttt a text so that I can escape whatever I'm doing". Genius!
Question: how would you/do you use Dropbox, Evernote or ifttt to help with your youth work? Let us know in the comments below
You can also connect with us by: